Honeywell HF500LPG Flammable Gas Detector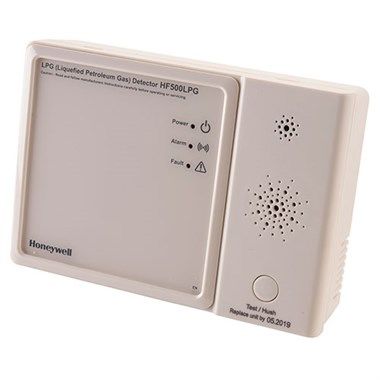 Honeywell HF500LPG Flammable Gas Detector
Honeywell HF500LPG Flammable Gas Detector
Honeywell HF500LPG Key Features:
Low total cost of ownership
Designed for residential environments
About the 
Honeywell HF500LPG:
The Honeywell HF500LPG is designed for use in domestic premises (including static caravan holiday homes) to detect leaks of LPG.
The HF500LPG is a mains powered device designed to deliver a complete solution for the detection of Liquefied Petoleum Gas (LPG) and  can be used as a stand-alone device or it can also be directly wired to a solenoid valve or control panel/alarm system. 
The Honeywell HF500LPG is approved to EN50194-1:2009 by BSI (Kitemarked KM 590203), this product also has a 5 year product life with 2 year guaranteed. 

Technical Details
| | |
| --- | --- |
| Manufacturer: | Honeywell |
| Product Code: | HF500LPG |
| Warranty: | 5 year product life - 2 year manufacturer warranty |
| Self-check function: | Yes |
| Temperature: | -10ºC to +55ºC |
| Humidity: | 0-95% RH (non-condensing) |
| IP Rating: | IPX2D |
| Power Supply: | 110-230V 50/60Hz |
| Visual Indicator: | Power:Green LED, Alarm:Red LED, Fault:Yellow LED |
| Sound Output: | 85dB at 1m |
| Dimensions: | W:150 x H:104 x D:37mm |
Featured Products