S4S Guardian® 1 Pub Cellar CO2 Gas Detection System Package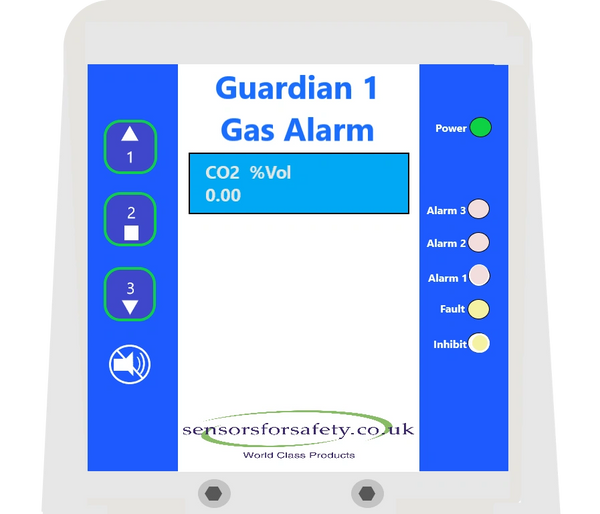 S4S Guardian® 1 Pub Cellar CO2 Gas Detection System Package
S4S Guardian® 1 Pub Cellar CO2 Gas Detection System Package
S4S Guardian® 1 Cellargard

Single Point Carbon Dioxide (CO2) Gas Alarm Package
Package includes:
1 off S4S Guardian® 1 gas detection control panel 230V (230V spur to be supplied by others adjacent to control panel)
1 off  S4S Guardian® Point SA 0-2% v/v IR Carbon Dioxide (CO2) Gas Sensor c/w Splashguard & IP66 Junction Box
1 off Status Indicator Panel
1 off Sounder Beacon
1 off Installation and Commissioning of above. Note: All cabling to be CY 0.75mm clipped to building fabric - max distance between panel and sensor / sounder-beacon 25 Metres

A fixed single point Carbon Dioxide (CO2) gas alarm unit that meets the requirements for economic and reliable monitoring of gas levels in pub cellars and similar applications where Carbon Dioxide (CO2) gas may be released accidentally or as part of the process.

The S4S Guardian® 1 Cellargard may be utilised as a standalone unit or as an addressable sensor forming part of the S4S Guardian® Plus CANbus addressable network system and therefore offering the features of our most advanced system.

Typical monitor locations are - pub cellars, Fast Food outlets, Hotel bar plant rooms, manufacturing and process plants.
NOTE: Delivery 10-15 Working days although we always endeavour to meet our Customers requirements wherever possible.