S4S Gaswarden Nitrowarn Gas Detection System Standard Package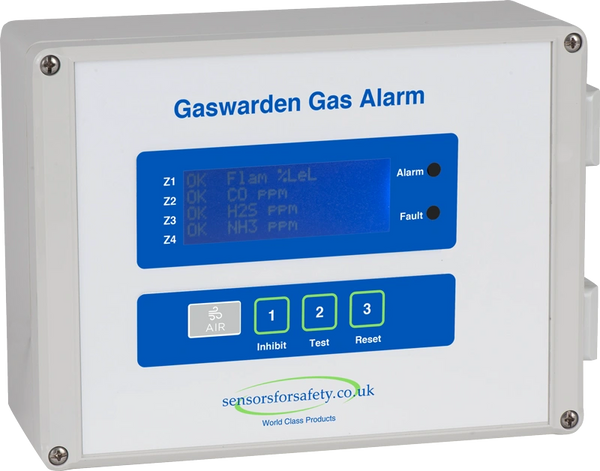 S4S Gaswarden Nitrowarn Gas Detection System Standard Package
S4S Gaswarden Nitrowarn
Oxygen Deficiency (O2) Gas Alarm Package
Package includes:
1 off S4S Gaswarden gas detection control panel 230V (230V spur to be supplied by others adjacent to control panel)

1 off S4S Gaswarden 0-25% vol Oxygen (O2) Weatherproof Gas Sensor
1 off Sounder Beacon
The S4S Gaswarden

The S4S Gaswarden gas leak detection system features remote sensors connected to the main control unit via a 3 core cable network. The control unit is an advanced design using the latest technology and provides a high integrity system whilst offering a significant cost saving over conventional gas alarm systems.
Standard sensors for use in commercial and light industrial applications such as laboratories, workshops, boiler plant rooms etc are available for monitoring toxic, flammable, oxygen or refrigerant gases. Each gas sensor continuously monitors the atmosphere for any hazardous conditions, on detection of gas the sensor will indicate the gas level status A1, A2, A3 by LED indication and sounder. Information received by the control panel from the sensor is then displayed, indicating the zone, gas type and alarm status. Alarm levels that are exceeded are then able to activate user selectable relays and appropriate control actions.
Note: Delivery 10-15 working days from acceptance of order
Featured Products