Bump Test and Calibration Gas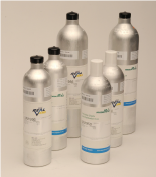 Bump Test and Calibration Gas
Bump Test & Calibration Gas
NOTE: Hazardous Goods Transport MUST be selected at checkout (£25 +VAT UK Mainland) - Contact office for other regions

FULL BUMP TEST AND CALIBRATION GAS DATASHEET
Features:
• Lightweight Aluminium Alloy canisters
• Available in 4 convenient sizes - Aerosol, 34ltr, 58ltr & 110ltr
• Reactive & non reactive gases available
• Up to 60 months shelf life
• Mixes available in Nitrogen or Air
• Can be used for Bump Testing & Calibration
• Fixed flow, variable flow & demand flow regulators available in Brass or Stainless Steel
• Soft Shell & Hard Shell carry cases available for ultimate portability
Non-refillable canister solutions for ultimate portability
Our canister range allows users to achieve the ideal compromise between gas capacity and portability.
Aerosol
The aerosol type canister provides the ultimate in portability and ease of use.  It is perfect where low volumes of gas are required, and it supports mixture shelf-life up to 5 years making it an ideal solution for low or infrequent usage.
34L canister
Our 34L is the smallest canister in the range featuring the universal C10 valve.  This high specifiication aluminium canister, combined with advanced treatment processes, makes it suitable for all mixture components including H2S, SO2 and highly reactive components like Cl2 and HCN.  The C10 connection facilitates use with a wide range of gas control equipment for varied applications.
58L canister
The 58L is the second largest canister to feature the C10 valve. Its unique characteristics means that it supports highly stable 'quad' gas mixtures used extensively in the field of gas detection and industrial hygiene.
110L canister
Our 110L canister represents the ultimate in economy.  A higher fill pressure means it contains twice as much gas as the 58L canister, yet has similar physical dimensions. This highly popular canister is designed to support both non-reactive and reactive mixture components including H2S, SO2 and NO2. It is used extensively in a wide range of applications where high gas yield is needed without compromising portability and ease of use.
Stability and shelf life
Our gas mixture stability and the validity of our shelf life claims are absolutely critical in the markets we serve. Advanced canister preparation techniques, high integrity filling manifolds and the use of ultra high purity raw materials all contribute to the long term stability of our gas mixtures, resulting in mixture shelf lives up to 5 years.
Over 50 years of research and development in this field tells us that mixture stability is achieved by a combination of factors including:
• Optimum canister and valve selection enhanced by proprietary preparation and passivation techniques
• The selection of ultra high purity raw materials
• Proprietary filling technology using ultra high integrity filling manifolds
• Comprehensive shelf life studies This knowledge and experience is brought together to achieve the accurately certified and reliable calibration gas standards that customers demand.
All of our gas mixtures are issued with hard copy certificates of analysis that exceed the requirements defined in ISO 6141
Delivery: 10-15 working days (except those marked in green 3-5 working days)
Featured Products