MGT - Multi Gas Detector
O2,CO,H2S,Combustible gases

MGT is a portable multi gas detector which can detect four
different gases (O2,CO,H2S and Combustible gas) with LCD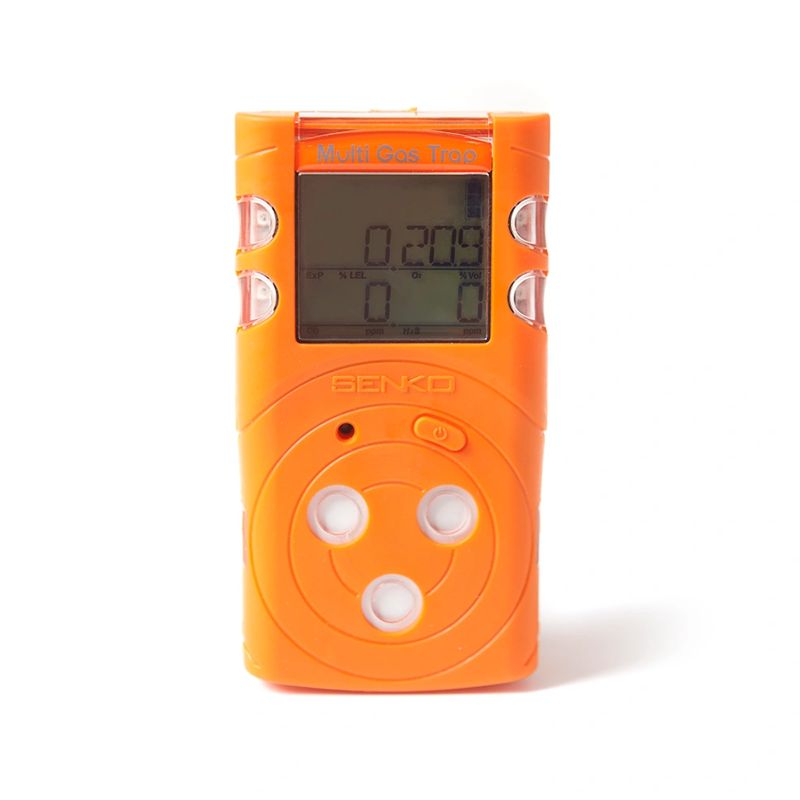 screen, bright and loud alarms.
It is designed to withstand the harshest industrial working
conditions and delivers industry leading alarm time, changeable alarm levels and event logging as well as user-friendly bump test and calibration solutions. The MGT is available with a catalytic combustible gas sensor or a long life infra red sensor.

The IR link enables users to set up calibration levels, alarm set points, and configuration options as well as download logs.

The MGT devices are compatible with Senko Docking Station and Senko IR Link. Both devices provide the function to download the data of the MGT multi gas monitor.
MGT can be calibrated or bump tested manually. The Docking Station will automatically calibrate four devices simultaneously (up to 12 devices per minute), which reduces downtime and gas consumption.
Highlights:
• Lightweight & Compact
• Visual and Audible Alarms
• Stores up to 30 events each for: Event Log, Calibration Log, Bump Test Log
• Datalogs over 2 Months Real Time Data
• 6 Monthly Calibrations
• 2 years of Warranty
• IP-67
• Fast bump tests with Docking Station
• Option of Sampling Pump
SPECIFICATIONS:Detectable Gas Ranges:
O2 = 0-30%Vol | CO = 0-500ppm | H2S = 0-100ppm | Combustible = 0-100% lel
Output Specifications:
LCD display of current reading with alarm sounder and vibrator
Sensor Technology:
Electrochemical Cell (O2,CO,H2S) Catalytic OR Infra red (Combustible)
Power Supply:
Samsung SDI Lithium-ion Rechargeable Battery 2000mAh
Battery Life Time:
MGT-P (Cat. Comb sensor): 24 Hours | MGT-N (Infra red Comb sensor): 2 months
Operating Temperature: -20°C ~ 45°C
Operating Humidity: 

10% ~ 95% RH (Non-condensing)


Dimensions: 

60mm(W) x 118mm(H) x 40mm(D)


Weight: 

240g (Battery, clip included)


Alarm: 

95dB


Enclosure Material: 

Polycarbonate and rubber


IP Rating of Enclosure: IP67
Certificates & Approval: ATEX: II 1g Ex d ia IIC T4 (MGT-P)

| Ex ia IIC T4 (MGT-N)


                                         CSA: C1,D1, Groups A,B,C,D,T4
                                         IECEx: Ex d ia IIC T4 (MGT-P) | Ex ia IIC T4 (MGT-N)